The 11th International Conference on Applied Ethics (December 15-16, 2018)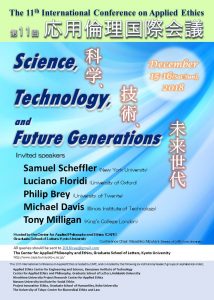 Registration Opens
All participants are requested to fill in the registration form.
Timetable
The timetable is available.
Abstracts
The abstracts are available.
Conference Venue
The conference venue is on Kyoto University's Yoshida Main Campus, which is located in the North-Eastern area of the city.
https://www.kyoto-u.ac.jp/en/access/
December 15th (Sat): International Science Innovation Building (Main Campus Map #69)
December 16th (Sun): Faculty of Letters Main Building (Main Campus Map #8)
Main Campus Map: https://www.kyoto-u.ac.jp/en/access/main-campus-map.html
Conference Venues: PDF
Notes for Presenters
Each slot of parallel sessions is 30 minutes in total (15-20 minutes for presentation followed by a Q&A session for the remaining time).
A projector is set at all venues. Please bring your own PC.
Please note that the type of the connecting terminal of the projector at Venues C and D on 16th is VGA only.
If you wish to use a Mac PC, please bring a connector with you.
A certificate of participation will be issued upon request. If you wish to obtain it, please inform us in advance.
Conference Dinner
Conference Dinner at Camphora on 15th (Main Campus map #2).
Lunch and more
Camphora is open for lunch on 15th and 16th (11:00-15:30; LO 15:00).
There is a wide range of restaurants and cafes around the Hyakumanben area (off the northwest corner of the Main Campus).
The below-listed URL is web-based lists of restaurants.
http://www.kurims.kyoto-u.ac.jp/~kenkyubu/proj2012/food.html
(Note: Unfortunately, some details of the above-listed are outdated. If and when you wish to visit, we recommend checking the up-to-date details in advance.)
https://tabelog.com/en/kyoto/
Queries
All queries should be sent to 2018icae@gmail.com.
This international conference is supported by the Murata Science Foundation.